Non woven dedicated to Agriculture
Non woven products are widely used in the Agriculture because of various properties.
Some may have a short lifetime or be unique use, while some are very durable heavy duty textile.
Non woven have specific characteristics which allow them to offer high performance in a wide range of application.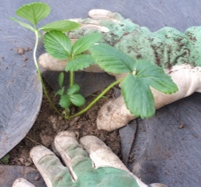 Geotextile for Drainage, Protection, stabilisation.

Growth and Frost cover.

Harvest Cover.

Mulching cover.