Member of ADDEV Materials group, a strong growth Middle Sized company
« Wherever innovative materials are key, we deliver converting and services »
We combined our expertise of high perfomance Materials (Adhesive Tape, films, glue and chemicals) and our know-how in converting to boost our clients industrial performance.
As a partner of top worldwide producers, and thanks to our strong know how of markets, we create customized solutions to adress our clients technical chalenges.
Our human values drive our entrepreneurial, international and responsible growth project.
The human added value of our teams enhances our materials solutions.
This makes us stand out and drives performance for our customers.
.
| | | | |
| --- | --- | --- | --- |
| T | E | A | M |
| —– | —– | —– | —– |
| TRUST | ENTHUSIASM | AUTONOMY | MOTIVATION |
OUR COMMITMENT TO RESPONSIBLE GROWTH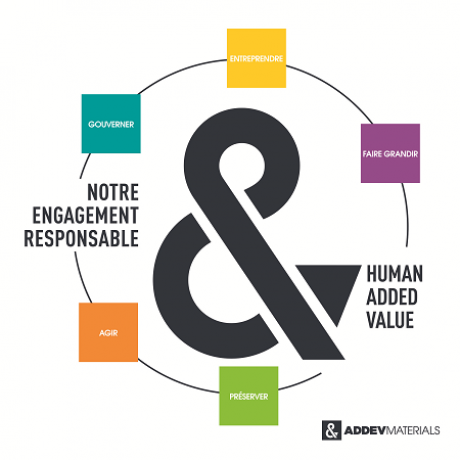 CSR (Corporate Social Responsibility) is at the heart of our our entrepreneurial, international and responsible growth project. The business venture we have been pursuing for several years is built on strong foundations. By doing business, we create values, which help the men and women of ADDEV Materials grow. Our position of intermediary in the value chain, makes us a privileged partner of our customers with a duty to innovate and meet technological and environmental challenges. However, preserving the environment also means reducing our footprint.
"It is our ambition to meet our partners' industrial challenges with responsible solutions. In a world where resources are beginning to run out, we need to do better with less".
As an international Group with local impact, we pursue concrete activities in our ecosystems.
We work and lead ethically and honestly. By respecting the DNA of each entity in the Group, while leaving the door open to the development of shared practices, we strengthen our synergies.
Being Agile Professionals in the Customer Requests Service